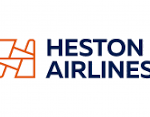 Website Heston Airlines
First Officer A320
Heston Airlines is a European carrier headquartered in Vilnius, Lithuania. A member of the Heston Aviation Group, a consolidated group of companies focused on aviation assets leasing, trading, maintenance, repair, and overhaul. Our team of industry executives and specialists is something that makes us extremely proud and the company has seen substantial growth in its recent history . We are therefore expanding our team and are looking for First Officers rated on A320 to join Heston Airlines.
MINIMUM REQUIREMENTS:
Hold a valid EASA Part-FCL frozen ATPL;
Hold valid A320, IR PBN ratings;
ICAO English Language Proficiency Level 4; Level 6 preferred
Class I medical certificate issued in accordance with PART-MED requirements;
A minimum of 500 hours on A320 Aircraft;
EU citizenship and passport allowing unlimited travel.
COMPANY OFFERS:
The unique possibility to join a new airline;
True opportunity to work in an international and multicultural business environment;
All conditions required for professional and personal growth;
Upgrade Opportunities.
One of the best financial package in the industry in comparison with our competitors (averagely 52 000 EUR yearly based on 600 BH count) including: guaranteed fixed monthly payment; Block Hour payment; additional extra days payment;