Helicopter Flying for Real!
Specifically for those individuals wanting a career as a helicopter pilot
From training through to a guaranteed career
And we will offer you paid flying work when your training is complete !
If you really are looking for a career change
If you have always had that desire to fly helicopters for a living
This is where it starts for you. Really!
Do you want to be paid to fly in the UK and in Spain?
Then read the following FAQ's which should answer some of your questions..
We recommend you then attend an Insight Day, to have your first helicopter flying lesson and to receive more details on all of the topics below.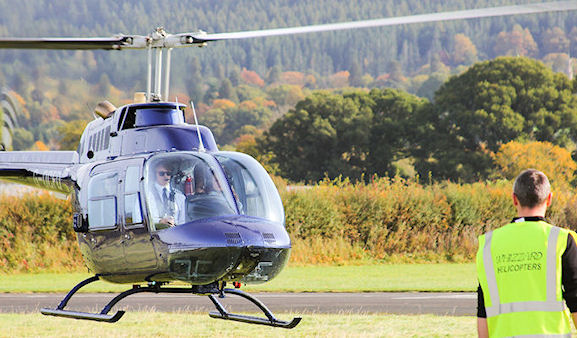 1. Does the helicopter training school have an AOC and are you an ATO?
Very few ask this question, because few know they ought to ask it !
Yes it does. Whizzard Helicopters has both. In the UK and in Spain/Iberian Peninsula.
Many people who learn to fly a helicopter do so at a school that does not have an AOC.
That does not do them any good if they hope to get some paid flying work on completion of their training.
An AOC is an Air Operators Certificate. It is the same approval as British Airways but applies to helicopters. Without it an organisation cannot legally fly fare paying passengers, so cannot legally offer pilots commercial work.
An ATO is an Approved Training Organisation. It means a school can teach pilots Commercial courses (CPL), Instructor courses (FI) and courses for different types of helicopter. And it can offer pilots instructional flying work after they have completed their FI course with them.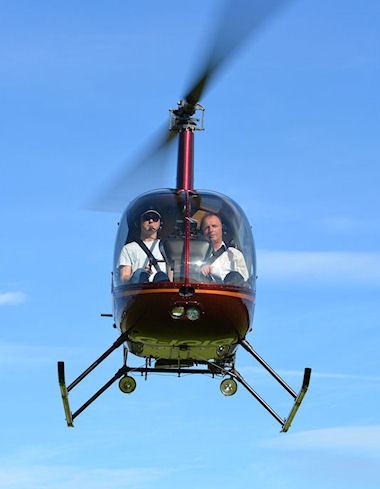 2. How is the training structured?
Because the aim of the Helicopter Flying for Real Programme is to create a Professional Pilot able to enter the industry, the course has several specific modules that each student is invited to participate in. These are explained in more detail during the Insight Day, the topics of which are listed at the end of this introduction.
However;
All training starts with the PPL (Private Pilot's licence) which is a minimum of 45 hours training.
This can be done at Welshpool or Mallorca (or at both locations if for example you are considering taking a break for winter sun)
After that is the 'hour building phase' which is where you gain experience flying around the country. We have a structured hour building course which is 40 hours of flying with routes through several beautiful parts of the UK and through controlled airspace.
It is also possible to fly to or from Welshpool/Mallorca through France and Spain as part of your hour building.
Next is the CPL (Commercial Pilot's Licence) Course and Night Rating. This begins when you have acquired 155 hours total time, and the course lasts 35 hours. The CPL course is conducted at the Welshpool base.
After successfully passing your CPL flight test you are then qualified as a Commercial Pilot.
A mixture of paid flying work and continuing hour building gets you to 230 hours and you can start you Fi (Flight Instructor) course in Mallorca.
On completing your FI course you will be offered instructional work in the UK and in Mallorca.
3. How long does it take?
The PPL course can be completed in 4 to 5 weeks if you attend on a full time basis. If you fit flying around work or other commitments and have perhaps two or three hour long lessons a week, then it will take you 3 months or so.
Your hour building flying of approximately 100 hrs can in theory easily be done in a three month period, but as you will also need to be studying for exams during this time (see below) students usually spend 6 months over this part of their flying.
The CPL and FI training courses are approximately 4 weeks duration each.
From zero hours to the completion of your CPL will take between 12 and 24 months depending on your own personal scheduling.
4. How much does it cost?
It isn't possible to hide the fact that it is quite expensive to learn to fly. And more so to become a Commercial Pilot.
But you have to treat the whole process as you would any business. The investment is in yourself rather than plant and equipment, and it is yourself and your skills that you will be selling after you have trained.
R22 training costs
PPL dual instruction – £250.00 + VAT per hour x 45 hours
Self fly hour during hour building phase £180.00 + VAT x 110 hours
CPL dual instruction – £285.00 + VAT x 35 hours
Approximate flying training costs to CPL(H) – £41,000.00* + VAT
* Costs based on student reaching required standard in the minimum number of hours and excluding any additional helicopter type rating courses
5. Financing options
Most people have access to some funds, through savings or help from the family.
But there are two ways that Whizzard recommend to help finance your training.
A. A career development loan of £10k
B. An unsecured loan through our associates ATPL Finance of £15k
6. Medical
You need a 1st Class EASA medical to apply for a Commercial Helicopter Pilot licence, which is issued by the CAA at Gatwick Airport.
7. Exams
There are two sets of multiple choice exams which you must pass –
The first series is 9 exams for the PPL(H) These are sat 'in house' at either of our bases.
The second series is the 14 exams for the CPL(H). These are normally sat at Gatwick and must be passed prior to starting your CPL Flying Training Course.
We work with Caledonian Aviation Pilot Training who provide internet based Ground School and brush up courses for these CPL exams